Lotto Results.
There was no winner of the Crossmolina Deel-Rovers GAA Club Lotto Jackpot on Saturday night 30th September. The numbers were 2 – 6 – 11 – 16, four punters matched three numbers, Paul Duffy, Aiden Garrett, James Heffernan and David McNamara and they share €150. The draw took place in Sticks Bar. This weeks jackpot is €4,350. Many thanks for your continued support

Why don't you play online Now!! Click Here
Men on the Move.
Returns for the autumn Tuesdays 8-9pm.
Mayo Snr League 2017-Group 1D
Sat, 07 Oct, Venue: Ballycastle, (Round 10), Ballycastle V Crossmolina Deel Rovers 17:00, Ref: John Walker
Under 15 League Division 2B
Sun, 08 Oct, Venue: Achill, (Round 1), Achill V Crossmolina Deel Rovers 11:00, Ref: Richard Cosgrove
Treanlaur Catering Mayo Senior Championship - Group 4
Sat, 30 Sep, Venue: Elverys MacHale Park, Castlebar, (Round 3),

Ballinrobe 1-10
Crossmolina Deel Rovers 2-13

Crossmolina; Shane Keane, Jonathan O'Boyle, Stephen Duffy, Stephen O'Malley, Kevin McHugh, Tom Cafferty, Peadar Gardiner(0-01), Jordan Flynn, Kevin Mulhern, Martin McAndrew, Cathal Carolan(1-00), Derek Hegarty, Finaun Duffy(0-08), Conor Loftus(0-01), Mark Leonard.

Subs; Brian Benson for Martin McAndrew (HT), Hugh Cafferty for Kevin McHugh (HT), Mike Gallagher (0-01) for Derek Hegarty (HT), Michael Loftus(1-00) for Cathal Carolan (47mins), Dean Loftus for Kevin Mulhern (59 mins), Darren Caden for Mark Leonard (Black Card 62mins).

Under 15 League Division 2B
Tue, 26 Sep, Venue: Crossmolina , (Round 3), Crossmolina Deel Rovers 1-4 Burrishoole 8-7

Sun, 01 Oct, Venue: Killala, (Round 4), Naomh Padraig 3-9 Crossmolina Deel Rovers 3-5

Under 13 League Division 2B
Thu, 28 Sep, Venue: Crossmolina , (Round 4), Crossmolina Deel Rovers 4-8 Swinford 3-1
Gym Upgrade Works
Keep an eye on the gym upgrade section in the email to keep up top date with progress with Club Crossmolina members help we are upgrading one of the busiest areas used at the pitch to enable all gym users enjoy a better standard in Health and safety whilst using the gym.

Audio Second Half of Championship Match Crossmolina V Ballinrobe

https://www.spreaker.com/user/ballinrobegaa/championship-v-crossmolina-2nd-half?utm_medium=widget&utm_source=user%3A8383920&utm_term=episode_title

Gaelic Mothers and Others
Training on Thursday's at 8pm to 9pm on Astroturf at Crossmolina GAA pitch. All new members welcome. Any queries contact Louise 087.7789974 or Vivian 087.0506353

Club members
All Club members are asked to email deelrovers@gmail.com with any jobs that they see needs doing around the GAA grounds. We are actively seeking suggestions on any way to improve our Club.

Votes of Sympathy.
At the Executive meeting of the Crossmolina Deel-Rovers G A A Club on Friday 8th September Votes of sympathy were expressed to the family's of the following who died recently. Daniel Gallagher 116 Knockaphunta Park Westport Rd Castlebar formerly of Ballina and Crossmolina, Mavis Arnold Genageary Dublin sister of Monica Flanagan Moylaw William (Billy) Munnelly Doohoma Head brother of Fr Pat Munnelly PP Ardagh and Mary Moyles Shraigh Castlehill, David Gavin Breaffy GAA Club, Kathleen Brogan St John's Riverside Ballinamore Kiltmagh and formerly of Ballina St Crossmolina, Bridget Hopkins nee Hegarty 88 St Mary's Park Crossmolina, Ann Groarke nee Kelly Cloontubrid Swinford sister of Michael and Padraic Kelly Crossmolina, Michael Garrett Orchard Lane Sligo Town and formerly of Rakestreet Crossmolina. Mary Kelly Tooreen Crossmolina, Katie Barrett Tubbermore Crossmolina, Bernadette Gillispie No 9 Cairns Hill Sligo and formerly of Rappa Ardagh, Peter McAndrew Birmingham and formerly of Portulin brother of Margaret Lynn Lake Rd Crossmolina, Eileen Hughes nee Gilvarry Newcastle Galway and formerly of Main St Crossmolina, Nora Clifford nee McGoff Cricklewood and formerly of Rathbane, Frank Queenan Leixlip Co Kildare and formerly of Ballymayock Castlehill, Joseph Walker Barnagh Clogher Belmullet brother of Ann Cullen Streamstown Crossmolina, Michael O' Hanlon New York husband of Margaret Ann Loftus, John Waters Killeen, Castlehill Ballina, Carmel Nicholson nee Gallagher in Leeds Daughter of the late Tony Gallagher Shanvalahan and Kathleen Jordan Enniscoe May they rest in peace

Men on the Move.
Returns for the autumn, Registration 7.30pm on Tuesday 26/9/17 at Crossmolina GAA Sports Hall. And every Tuesday there after 8-9pm.
Club Crossmolina Gym Upgrading 2017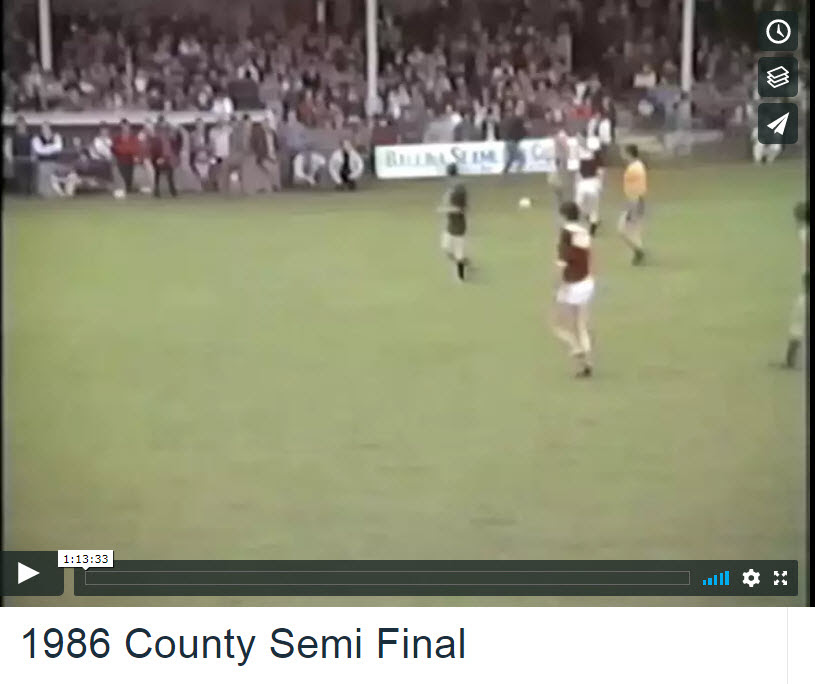 Description: 1986 Mayo County Semi Final Crossmolina V Knockmore
Password (Lowercase):